Type PAR and Type PARP
Mobile yard ramp
The mobile yard ramps are part of PROMStahl's wide product range. They offer the possibility of loading and unloading trucks, containers or wagons directly from yard level. The whole maneuvering and loading process can be managed by just one person.
The ramps are made of robust welded steel and the whole driving range consists of stable grids that are optimally dimensioned and suited for heavy loads. For accident prevention the ramp is equipped with lateral protection bars on the left and right side.
The mobile yard ramp is available in its standard version (type PAR) or with an additional horizontal platform (type PARP). For loading and unloading of high loads the PARP version is recommended with the forklift truck safely entering the lorry via the horizontal part of the ramp.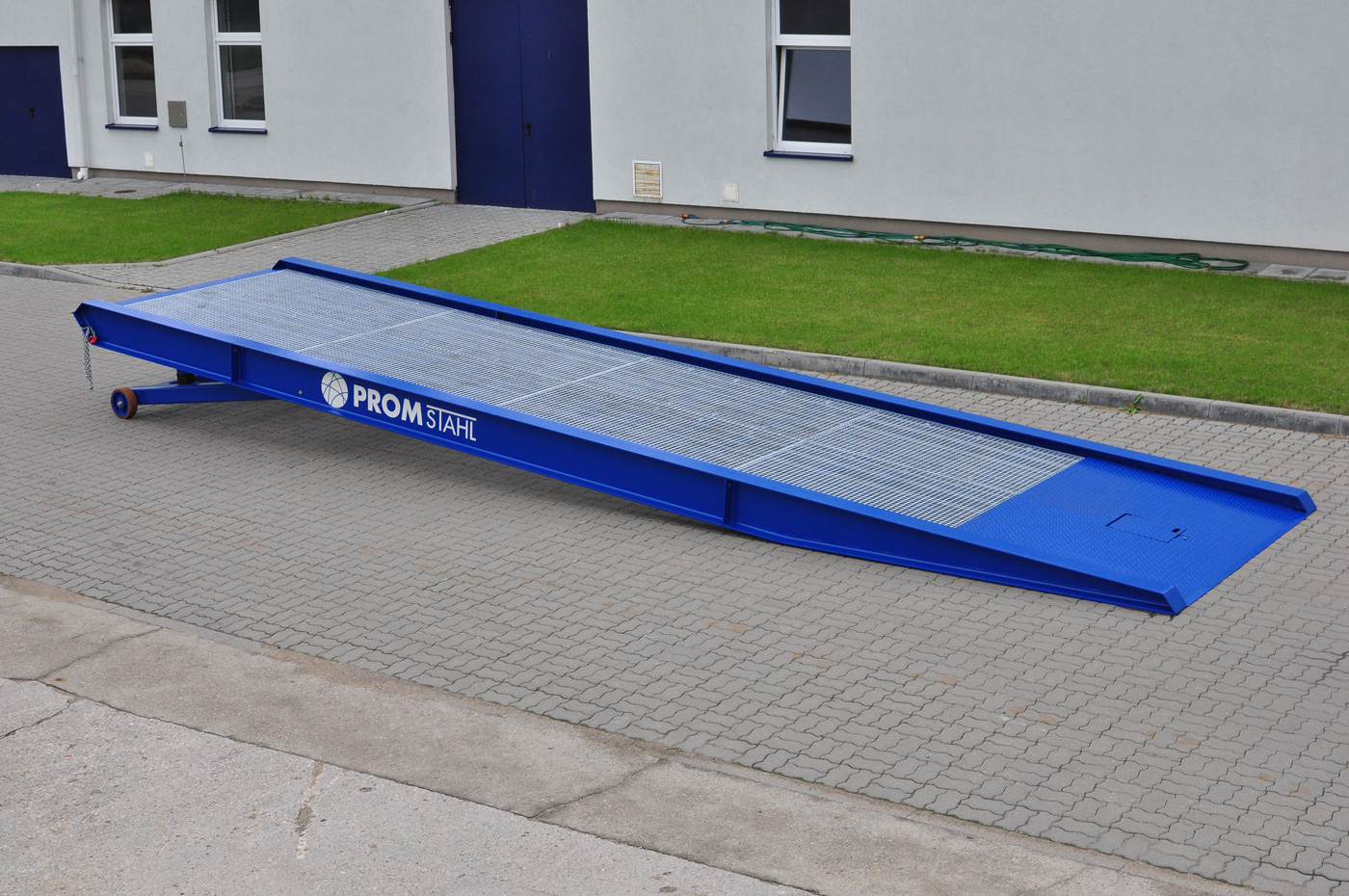 Technical details
robust steel
optimal manoeuverability even for small spaces
heavy-duty wheels
anti-slip and open hot-dip galvanized grids
Load capacities: 7 t and 10 t
infinitely variable height adjustment of the ramp by means of a manual hydraulics pump
high-stability safety chain for fixing the mobile yard ramp to the truck, container and wagon
floating position for optimal adaption of the vehicles during the loading or unloading process
high-quality corrosion protection (available in RAL colours or hot-dip galvanised version)
movable by means of forklift truck
load hook for forklift truck (for fast moving of the yard ramp)
Dimensions
Type
Type PAR
Type PARP
Overall width for load capacity of 7 t
2.340 mm
2.360 mm
Overall length for load capacity of 10 t
–
2.380 mm
Height adjustment range
850 – 1.750 mm

Overall length

9.500 mm
11.500 mm